Learning never ends. Learning is a process that needs to be cultivated in organizations to upskill employees, improve them, broaden their perspectives, make them solution-driven, and support them to expand in the world of work. In other words, a learning culture can be defined as an environment that believes in, and supports open mindsets. Here, an open mindset means an urge to expand knowledge and embrace shared learning, directed toward the organization's goals and mission.  
In the current scenario, when industrial competitiveness is extreme, organizations need to figure out ways to increase their employee engagement and productivity. The decrease in employee engagement is the major factor behind dropped efficiency of employees. As they are likely to spend their productive hours in unnecessary activities due to lack of interest. In addition, there is a high chance that employees might switch companies due to losing engagement, resulting in decreased productivity, and loss of revenues for organizations. 
Organizations must foster a continuous learning culture to improve employee engagement. It provides them with the required opportunity and exposure to upskill themselves, resulting in their higher engagement with the organization. There could be numerous ways to foster it such as, informal social learning, peer-to-peer sessions, mentorship from a manager, and online courses. For instance, research projects are based on self-directed learning that involves experimentation and exploration. You need to understand that there is no rocket science involved in fostering a continuous learning culture. Even rocket science can be learnt.
We suggest you to introduce an LMS, a learning management system to step ahead of traditional learning to foster a continuous learning culture, that is highly efficient and connects the global workforce, without any geographical or time-zone barriers. 
How an LMS Fosters a Continous Learning Culture
An LMS is an e-learning software that helps organizations in delivering, tracking, and managing training content. It adds numerous advantages in improving the workplace engagement of employees. More specifically, an LMS makes training more accessible to employees. With an LMS, employees can learn anywhere, on any device, anytime. The training does not impact employee productivity as it fits into their busy schedules. 
An LMS facilitates numerous methods to improve employee engagement toward continuous learning, and vice-versa. It involves collaborative learning, gamification, accessibility, multiformat-learning, feedback on learning material, tracking learners' behavior, and others. It helps in delivering a variety of training content, such as e-learning courses, video tutorials, e-books, and live webinars. An instructor can create a learning path, track the learner's progress on the course material, modify the content based on course performance, automate certification distribution, and much more. In addition, an LMS is utilized to create interactive and multimedia training content. 
Keep scrolling and reading to understand how an LMS helps in improving employee engagement: 
Interactive Learning
An LMS delivers interactive learning experiences to employees. Different kinds of interactions can be added to the learning materials on LMS, such as quizzes, fill-in-the-blanks, and numerous other activities. It improves engagement with the learning material and enhances the learning experience by ending the monotony of the learning content. Such interactive assessments and activities, make learning more engaging and motivate employees to participate in the continuing learning process. 
An LMS enables employees to collaborate and discuss their doubts on the learning material. Comments, chats, messages, and discussion forums can be added to the learning materials to enable employees to connect, have discussions with the trainer or instructional designer, and achieve the training goals. Besides this, the feedback enabled on learning material helps the instructor in understanding the flaws in the learning content, and what needs to be modified.
An LMS facilitates learning on the go. Employees can learn at any time at their own convenience in any location. It neither impacts their productivity nor kills them with boredom. Employees can take breaks, switch the learning materials, and perform other tasks. In addition, employees working remotely, or at different geographical locations can continue to learn at different time zones without any restrictions. 
Track Learners' Progress
An LMS enables instructors, as well as learners to track their learning progress. The reports provide insights into learners' interactions with the learning material. An instructor can track how many times an employee has logged in to the system, and the activities he or she has performed. In addition, an instructor can track where he or she is lagging in the course material, and how many times he or she has attempted the assessments. 
Gamification
There are numerous advantages of adding gamification to the LMS. It motivates employees to continue learning by providing them a sense of achievement by earning rewards such as points, badges, certificates, and leaderboards. Moreover, a leaderboard increases the internal competition among employees to get displayed on the leaderboard and compete with their peers regarding learning, and performance.  
Additional Benefits of LMS in Improving Employee Engagement 
A learning management system does not restrict learning to a specific method but expands learning in numerous ways. It transforms the monotonous learning process into a fun activity with increased engagement, better knowledge retention, improved productivity, and much more. 
Continue to read to know more about the added advantages of LMS to boost employee engagement.   
Better Knowledge Retention
There are high chances of employees retaining the information when they learn in a self-paced environment. According to a report, employees tend to retain only 5% of information through traditional training methods. On the other hand, introducing LMS improves knowledge retention. Employees can access the recorded training as many times, as they want. 
Increase in Employee Satisfaction
Employees can better clear their doubts, track their progress, and identify areas that need improvement. They can continue learning the same course till they get satisfied with their knowledge retention, and improvement in their performance. In addition, they can continue to learn in various formats as per their interest to end the monotony of the learning material. They can learn from videos, e-books, pdfs, audio, and various other formats.  Furthermore, they can share their earned certificates as evidence of their acquired knowledge and skills on social media. 
Training Cost Reduction
One of the major advantages of introducing an LMS to foster a continuous learning culture is decreased training costs. The L&D teams can add recorded training sessions to LMS for new employees, or for those who further need training to clear their doubts. It mitigates the need for further conducting traditional training that involves arranging a place and other resources. It enables delivering immersive learning for both employees at work premises, as well as those who work remotely. 
Better Compliance
An LMS improves compliance in numerous industries. For instance, an LMS is used to train employees on anti-laundering regulations in the financial industry. Similarly, in the healthcare industry, an LMS offers training in compliance with the HIPPA. Furthermore, in a manufacturing company, LMS trains employees in compliance with safety regulations. Moreover, in the retail sector, employees are offered training through LMS to ensure they comply with customer service regulations. 
An LMS helps you deliver all kinds of learning needs with various added advantages. It helps in streamlining your work processes,  ensuring compliance with the state's regulations, and the organization's goals. It improves organization's efficiency, and thus saves costs. 
Summary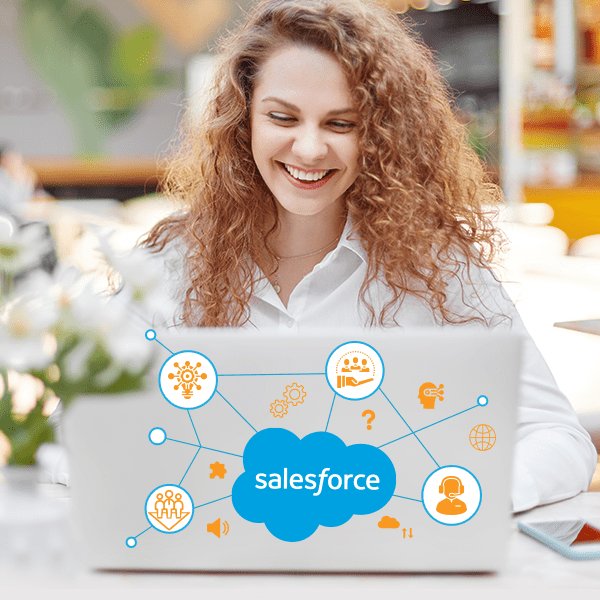 Article Name
Salesforce LMS Integration: Four Robust Methods to Improve Your Customer Training
Description
Salesforce compatible LMS for learning and development success. Read here Learning Management Systems Integrated with Salesforce how to improve your customer training experience.
Author
Publisher Name
Publisher Logo