Conduct Secure Online Exams, Pre-hiring Assessments and Certification Exams
User–friendly, Robust and Secure Tool for Conducting Virtual Exams
Secure and Easy to Use Online Assessment Tool to Conduct Cheating-proof Exams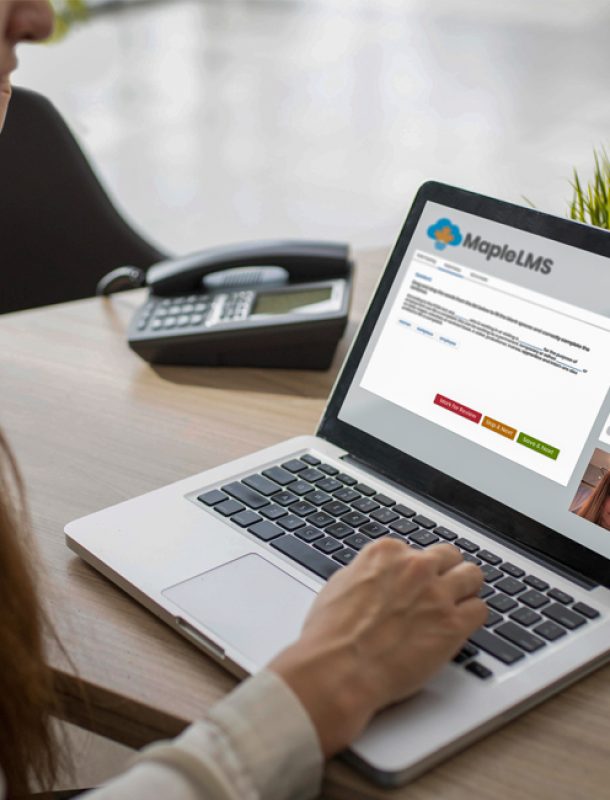 Content Management

Add, Choose and Pick multiple Question formats including, objective, subjective, text, video, image, based on types of exam.




Exam Management

Create virtual assessments, set up Dates, schedules, Duration, Languages, Sections, Grades, Instructions, Progress Reports and Dashboards




Recruitment Programs

Live Screening of candidates, Secure Proctored Online Assessments, Conduct Interviews for competency hiring




Certification Programs

Create Assessments, questions, grading criteria, workflows. White labeled cloud based platform. Remote Proctoring. Certificate Management.




Question Banks

Thousands of pre-configured subject-based, role based, and competency based questions are stored for faster assessment creation




Remote Proctoring

Authentication and validation, Control, SMART Proctoring, Record & Monitor Proctoring and Human led LIVE Proctoring




Online Fee Payment

Well integrated with payment gateways for seamless and secure transactions




Data Analytics

Pre-Configured Reports and advanced dashboards to, track progress, cluster analysis, informed decision making, etc.
One-Stop Solution
Pre-hiring & Competency Assessments
Certification Programs
Question Banks
Online Fee Payment
Role based Accesses
Secure & scalable
360° Proctoring
+
Administration
Setup Online Exam
Remote Proctoring
Automated Grading System
Certificate Generation
Integrate with All Popular LMSs
Bulk candidate registration and upload
Send customized invites
Data Analytics
+
Content
Question Repository
SCORM, AICC, xAPI format support
Support multiple formats of questions
Support for mathematical and chemical equation
Supports scientific diagram format
+
Data Security
Secure Cloud Hosting- AWS
Encrypted Data Exchange
Role based Access are given
High level database integrity
Multi-layer access authentication
Periodical Internal and external security audits
+
Exam Security
Candidate Authentication and Validation
Secure Browser Control
SMART Proctoring
Record and Review Proctoring
Human-led Live Proctoring
Integrity Reports
+
Data Analytics
Granular Assessment Reports
Proctoring Reports
Aggregated Reports and Dashboards
Personalized Dashboards
Ranking Reports
Cluster Analysis Reports
+
MapleLMS Remote Proctoring Tool for Conducting Cheat-Proof Online Assessments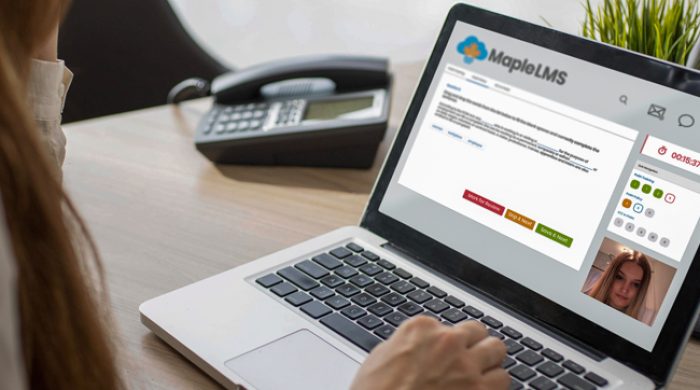 Authentication

Multipoint Authentication done to prevent impersonation

Browser Control for Assessments

Disable Browser, tab & windows toggles, printings, data transfers, etc.

Comprehensive Proctoring

SMART proctoring, Auto-Record & Manual Review Proctoring, Human-led Live Proctoring

Reports & Dashboards

Proctoring Reports, Dashboards & Assessment Results on multi-factor defined metrics

One-Stop Solution
Helps Companies, Non –profit organizations, Education & Training Institutions, accelerate the pace to achieve their skill assessment, recruitment, selection and certification goals.
Next-Gen Online Assessment Software
It is a cloud-based, secure, centralized, and automated solution to create, communicate, schedule, record and proctor tests.
Ease of Use
It creates a learning & evaluative experience for both examiners covering candidates. It is easy to use, and thus, non-technical users also do not face any issue in using it.
Support for Special Needs
Candidates with special needs like visually impaired candidates are provided with controls and ease to use the system as effectively as anyone else.
Engaging Content
Easily create comprehendible, engaging & interactive tests using videos, audio, images, slides & documents. Share feedback and generate instant & detailed reports.
Automated Controls
Agile and automated communication with candidates is enabled using customized autoresponder mails and SMS.
User Management
The platform empowers you to assign role-based instructor accounts with predefined access rights for people involved in the assessment tests.
High Probity Assessments
Ensures clean, high probity exams by preventing any cheating attempts like printing, copying, web or app access during the assessment.
Data Security
Support both Windows and Mac and is highly secure and uses HTTPS along with a private certificate, latest encryption algorithms and authentications for data transmission.
Seamless Integration
It decreases the time to value and enhance user adoption. Connectors and API based quick integration with any of your existing CRMs like Salesforce, Zoho, SIS, AMS/EMS, HRIS, etc.
Integrable & Scalable
Conducts Cheat proof exams of 100K candidates, simultaneously and integrates with all popular LMSs.
End User Support
24*7 support team, dedicated account manager along with unlimited free cloud storage, free managed services, no cost onboarding and white-glove implementation