Online learning has seen a remarkable shift as the COVID-19 pandemic hit hard and collapsed numerous businesses across the globe. Organizations from various niches have widely adopted learning management systems (LMSs) to meet the surging demands for online training and continuing education. With all these on board, what about the learning and development evaluation metrics for learners (employees, members, vendors, or students)? How are the values measured and presented to the leadership roles or management? LMSs have dashboards that show the impacts of online learning experiences by gathering a wide range of learning information. Let's dive deeper to learn more about the impacts of advanced LMS dashboards.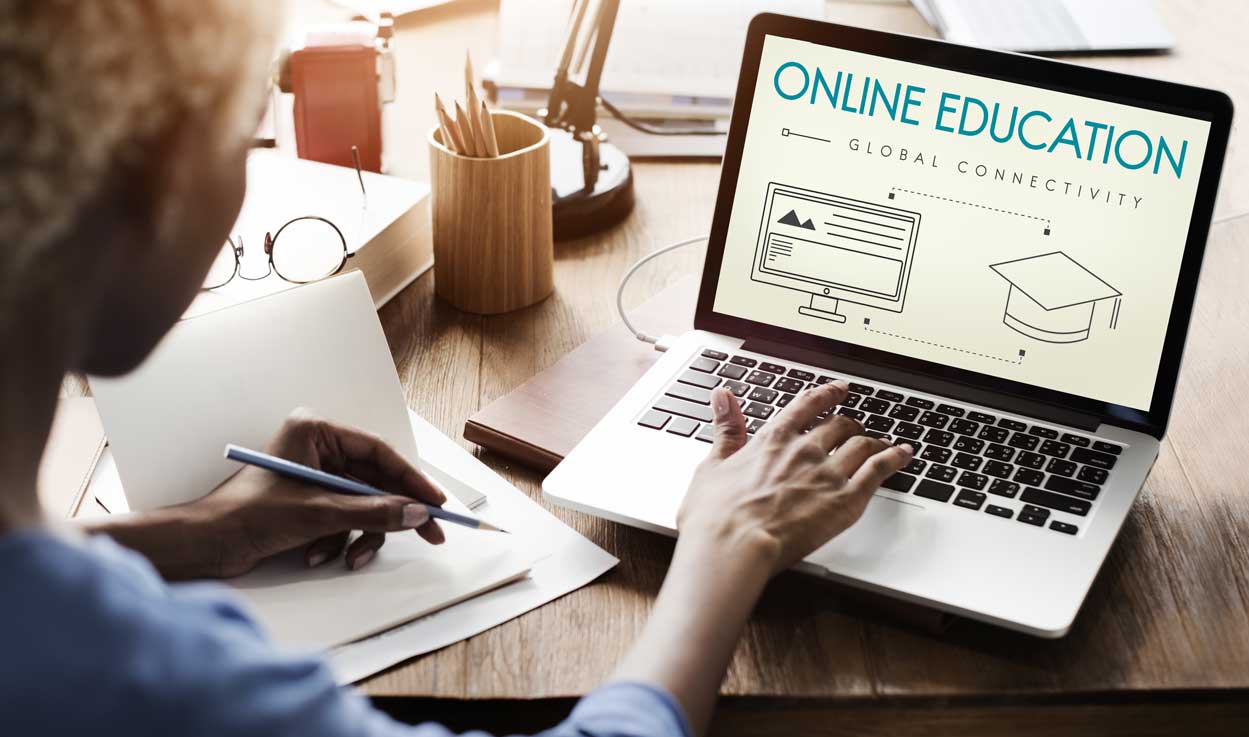 What is an LMS Dashboard?
An LMS dashboard enables administrators and learners to view relevant information about learning progress and courses on the LMS according to their access privileges. While admins can manage LMS system settings and course allocations, reporting managers can view the teams' progress metrics, course status, and manage approval requests. Learners can view the courses they have enrolled in, the status of their courses, upcoming and suggested courses, assessments they need to take to complete a course and earn a badge or certificate, etc. Easy navigation makes an LMS dashboard user-friendly and enhances efficacy for the LMS.
Which User Actions Are Visible on an LMS Dashboard?
User actions' visibility varies according to the users' roles. A learner can view limited things as compared to the administrator or management. An admin can view user progress, assessment performance, user survey participation, credits, etc., like the image given below: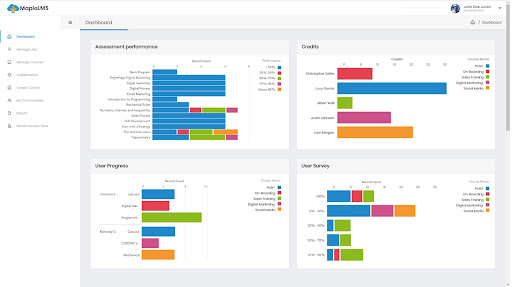 Apart from that, administrators can view learners' social interaction data, time spent, resources used, etc., on the LMS dashboard. Instructors and admins can visualize and gauge which learner is an outstanding performer and who is lagging behind, learners' frequent social interactions, how much time the learners spend on each course, and a lot more.
Why Use Dashboards?
LMS Dashboards are used for various purposes. We have included two major usages of LMS dashboards.
Gain Insights Dashboards represent the learning data generated by the LMS or any connected third-party application (ERPs, CRMs, AMSs, HRMS, etc.). They explore data by identifying the data patterns and underlying relationships. Filters and metrics can be added or removed on a dashboard to view different versions of the data. Dashboards or leaderboards fetch data from LMS reports using technology. The same data is then analyzed to generate meaningful insights that enhance future learning experiences.
Measure the Impact of Learning Dashboards can show learning data (of employees, students, members, etc.) that drives insights and business decisions. Employee performance and learning activity metrics are viewed on the LMS dashboard. These showcase the key performance indicators (KPIs) of the business outcomes for organizations including associations and corporates and the way online learning influences employee performance and business metrics. Integration with content standards like xAPI makes the data trackable for performance measures.

Here is how the dashboards track learning impacts:

Tracking Learning Activities Dashboards can track employees' learning progress, ongoing learning programs, and project what needs to be done to improve performance. Managers and instructors can view the performance metrics of team members, what courses they have completed, and who has done the most learning. The course status, employee progress, high performers are displayed on the dashboard with color codes, bar charts, pie charts, line charts, etc.
Common Challenges with LMS Dashboards
Here are a couple of LMS dashboard challenges that most admins, instructors, and learners face while using the dashboards.
Navigation issue that prevents them to reach the desired page on the LMS to view or access the LMS information.

A non-intuitive dashboard that doesn't respond to your needs and commands, and may prevent you from accessing desired reports or taking desired actions (adding or removing filters, or generating reports). Lack of an organic flow deters the user from using the LMS dashboard.

An incompetent dashboard prevents users from tracking or backtracking work progress. Users are unable to correct their mistakes as they can't retrace the past steps. The online training content can't be updated with such an incompatible LMS.
How to Get Rid of Such Challenges?
A robust dashboard has a positive impact on the LMS learning experience for learners across niches. If you are scared of such LMS dashboard issues then looking for an outstanding LMS is the only solution. You can check out MapleLMS and its smart dashboard and reporting features. It comes with dynamic dashboards and 50+ types of reports that can be customized. Moreover, it has features like AI-enabled learning path suggestions, a built-in eCommerce module, gamification for better user engagement and learning with fun, LMS white-labeling and mobile app branding, Salesforce out-of-the-box integration, online assessment, and a lot more. Explore the MapleLMS website for more information!
Summary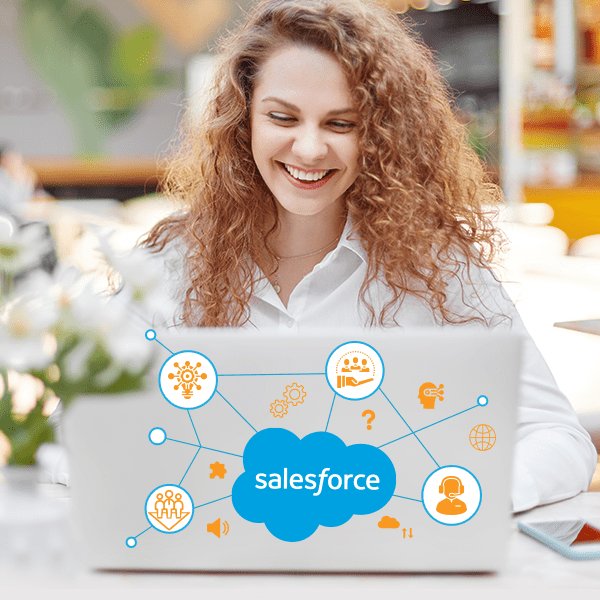 Article Name
Salesforce LMS Integration: Four Robust Methods to Improve Your Customer Training
Description
Salesforce compatible LMS for learning and development success. Read here Learning Management Systems Integrated with Salesforce how to improve your customer training experience.
Author
Publisher Name
Publisher Logo