A Salesforce LMS Microsite is a dedicated place that is customized according to a specific set of users (here the sales team) to impart training. Help them feel welcomed and the that they belong to the community with personalized themes, branding, and more for the microsite. The microsites can be designed for specific products or services that the salespeople belong to.
If your organization deals with multiple products or services and involves multiple geographies, then using Salesforce LMS Microsites would be a smart move!
Before using the LMS microsites, segregate the LMS courses in the following ways.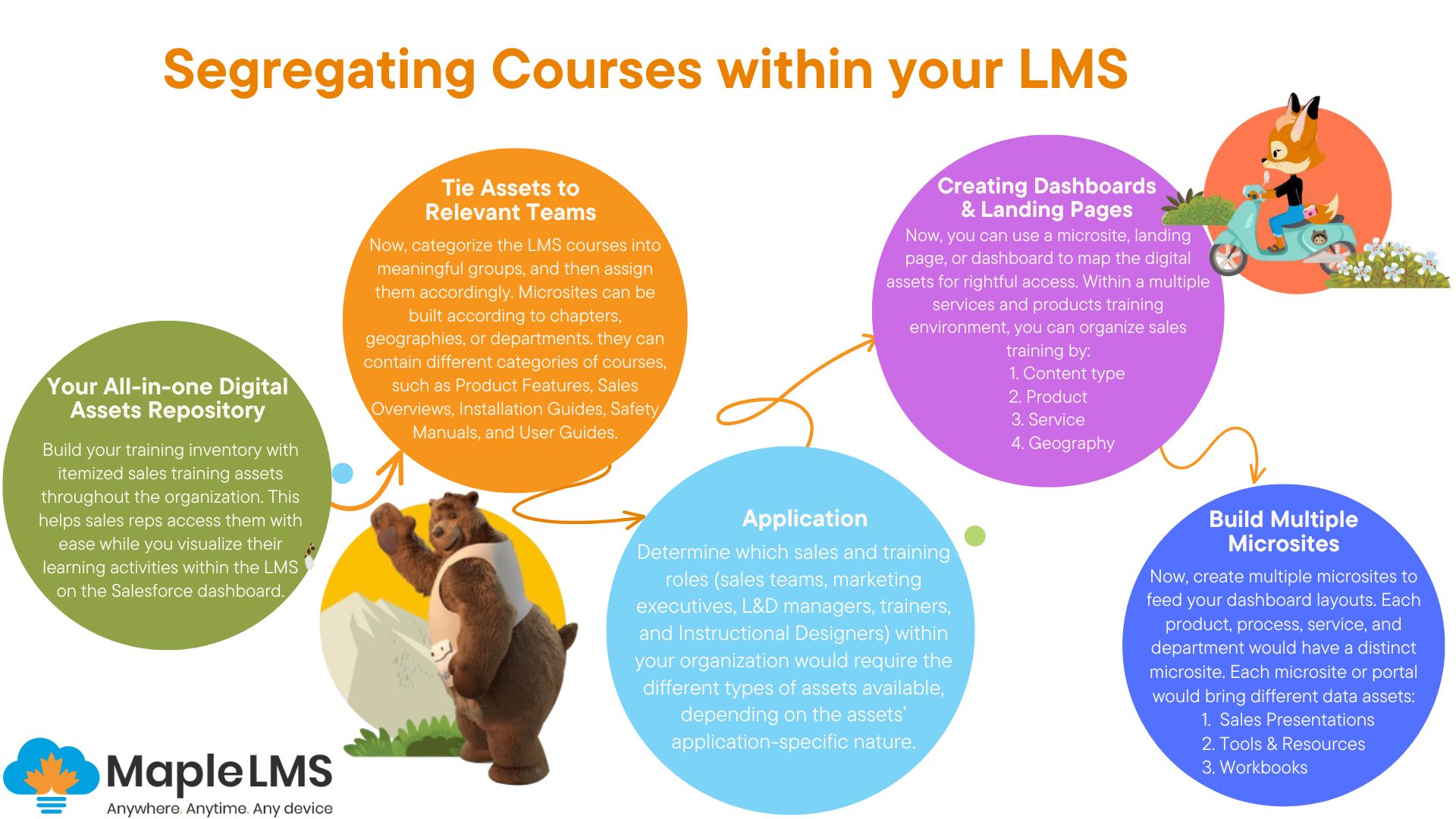 When you are designing the layout of your microsites and Salesforce portals to train and educate your employees and members, don't forget that simplicity wins. It helps you and the teams break digital silos. And, ensures immersive learning and training in desired skill sets, using the Salesforce LMS microsites. Keep the microsites easy to access and navigate so that learners use them extensively to learn, share knowledge and experience, and grow professionally.
Why Sales Training with a Salesforce LMS?
When your entire organization is reaping the benefits of Salesforce the number one cloud CRM, why your sales training is left alone with a training system in silos? Sales training enables your sales team to perform their tasks effectively and efficiently. When you have a Salesforce LMS at hand the job becomes more accessible.
When rightly delivered within an interactive and gamified environment, using microsites, your sales teams can be able to
Sharpen their sales skills

Develop their interpersonal skills

Build better relationships with customers

Enhance their communication skills

Grow in career by improving sales skills

Mobile-friendly on-the-go training
Sales training with an LMS covers product or service-related training to help your sales team achieve remarkable performance benchmarks. At the same time, you can visualize their progress reports from the LMS right on the Salesforce dashboards.
What are the Common Challenges with Learning Data in Silos?
Sales training for a multi-product environment is a tough challenge as training content lies in silos. When you put sales training content and information like training statistics, sales trends, customer profiles, release timelines, and product specifications that is accessible to a selected group of people can leave key members unaware of the said information. The same can happen with LMS data if you don't have a Salesforce LMS that brings synchronized data from the LMS and Salesforce together.
A Salesforce LMS can deal with all the associated challenges within the organization that relate to HR systems, training portals, databases, order processing solutions, and corporate websites that create their own version of data to work with. All the content needs to be streamlined for easy maintenance and seamless training by using LMS microsites as and when required.
Here are the most common challenges triggered by data silos
Poor decision making


Team members who should be aware of the above-mentioned important information have no idea where to find it or rather don't have access to it. Lack of training courses, user guides, and operation manuals make them struggle to perform in their job as they can't make informed decisions.

Inaccessibility


Enabling only managers, trainers, and product managers to access the training content prevents sales teams from getting trained at their convenience. This is a major training and productivity roadblock for salespeople.

Data redundancy


Data silos often contain the same content at different places and waste time and space on the organization's systems. Prevents the right people from getting trained which an LMS for Salesforce can never allow.

Poor collaboration and coordination


No collaboration between teams within a department means people who are not in decision-making or managerial roles would miss vital information, such as product development roadmap, L&D strategy, and sales plan as a whole. Keeping important information on a microsite would help the department members access it and utilize it for training and learning within a well-coordinated and collaborated workspace.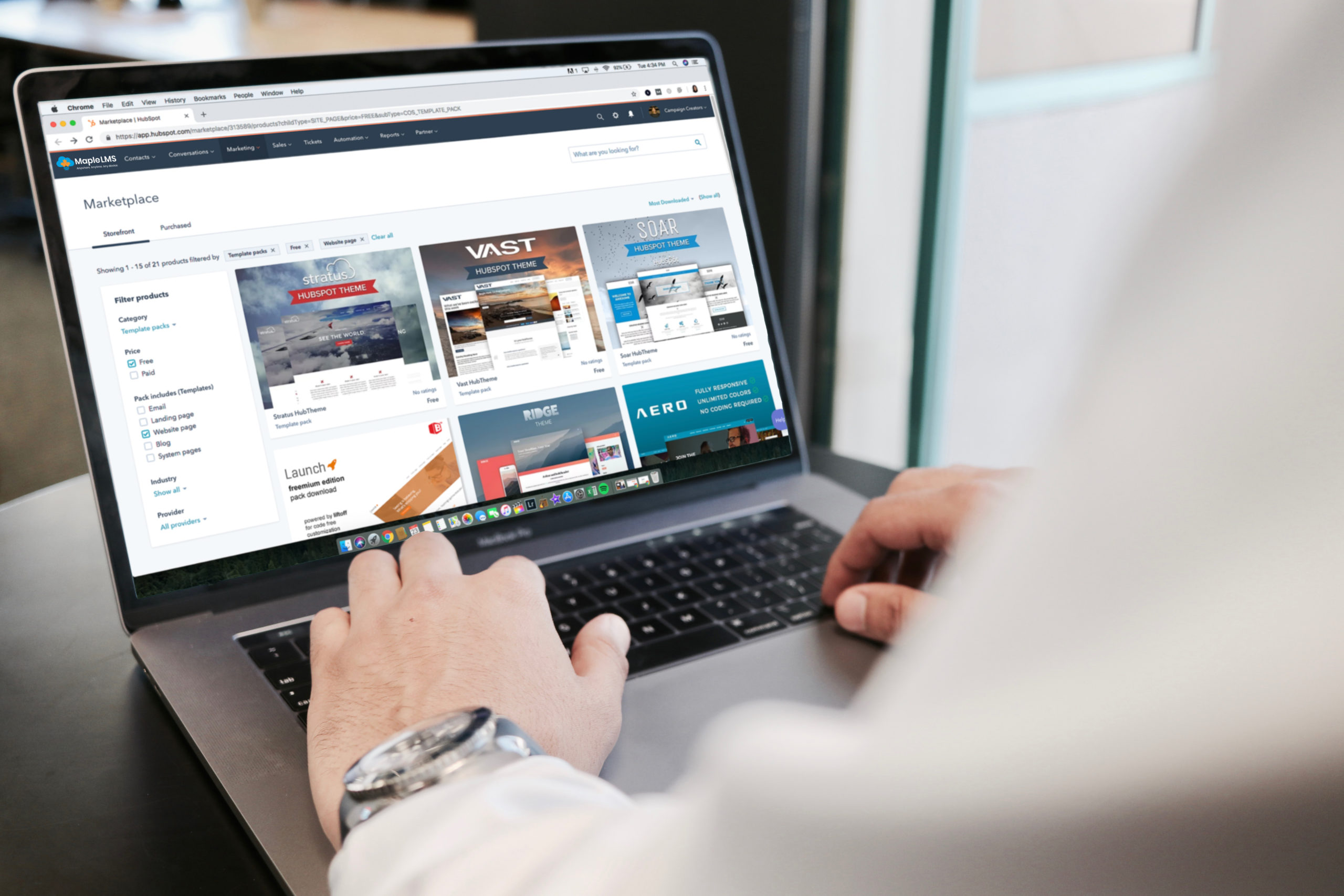 Salesforce LMS Microsites is the Ultimate Solution:
Well, we understand that you're tired of information and learning data disparity. A Salesforce LMS can take away all these worries with a customized microsite for each of your departments, chapters, or geographies so that your sales teams can be trained with ease. Using a Salesforce LMS microsite, you can be able to deliver –
Personalized access to users from different groups, departments, chapters, or geographies

Just-in-time, single, and accurate information for sales teams

Easy data maintenance as you take care of only your own microsite (or portal) for sales rather than the entire organization
LMS training content within a microsite is well integrated, validated, consistent, secured, stored, and personalized to offer the best user experience to your sales teams.
Optimize your Microsite to get the most out of it
Sales discovery becomes easier when you remove training data silos for the sales department. Centralized microsites bring everything sales at the front and centre. Centralized, consistent, and personalized content within the LMS microsites help sales teams have the best learning experience. The icing on the cake is right withing the Salesforce platform as they don't have to re-login from the LMS, as their Salesforce IDs allow them access to the same.
In a multi-product organization where managing training content is an herculean task, trainers, L&D managers, instructional designers, and SMEs can get seamless training and develop content for sales teams that can be shared across the microsite. This enables sales reps, sales managers, and business development teams to access the training content and become more productive.
If you are looking for a reliable Salesforce LMS with microsites then MapleLMS can be your perfect fit. It has customizable microsites that can be aligned with your industry and training requirements so that you can train your employees across departments and geographies. Explore the robust, highly secure, and scalable Salesforce LMS solution here!
Summary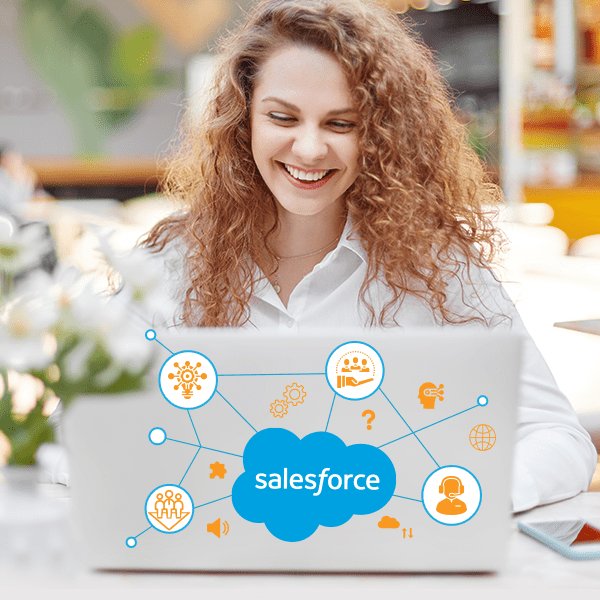 Article Name
Salesforce LMS Integration: Four Robust Methods to Improve Your Customer Training
Description
Salesforce compatible LMS for learning and development success. Read here Learning Management Systems Integrated with Salesforce how to improve your customer training experience.
Author
Publisher Name
Publisher Logo