Changing times have encouraged associations to evolve their strategy and implement programs for skilling up their workforce. Unless an association has employees who thoroughly understand its requirements, goals, and deliverables for members, how could they cater to those needs? As traditional training and skill development solutions have not done much for the workforce within an association, most associations are switching to learning management systems (LMSs) for effortlessly streamlined processes. We are not talking about the plain and outdated LMSs for your association but modern-day LMS integrations with CRMs like Salesforce to shoulder the responsibilities.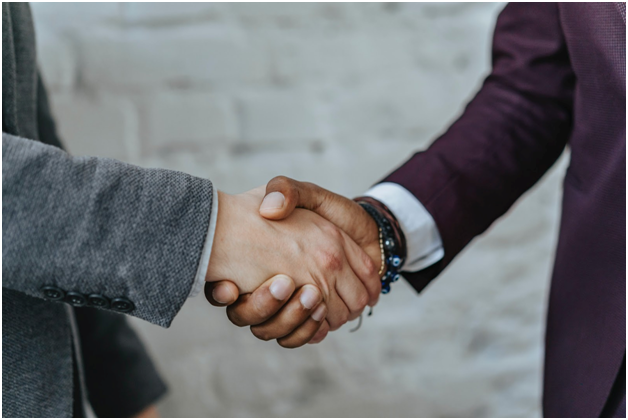 The COVID-19 pandemic continuously pushing the world to work in virtual mode – 2021 is going to benefit more from
LMS and Salesforce integration
for associations as events, fundraising, and everything in between are moving to the remote sphere. Well, to understand this in detail, let's move ahead to the next section!
What does LMS and Salesforce integration mean?
In simple words, integration between your LMS and Salesforce CRM means you will be able to have the benefits of both platforms. You can access the LMS from either of the applications using the single sign-on (SSO) feature securely. This integration is effectively done through APIs. It allows you to view the desired course and member information as elaborated below:
The way you can access reports and dashboards, and training data in Salesforce
Auto allocations and role-based training recommendations in Salesforce
Accessing performance data and customer engagement in Salesforce
Managing certifications for members, nonmembers, and partners
Leveraging "Chatter" to view course progress, allocations, interactions, and status
Note:
These APIs help your LMS – Salesforce integration seamlessly transfer data between the LMS and Salesforce system. With this integration, you can view data using dashboards and consolidated reports, automate your course content management, and maintain your content library effortlessly.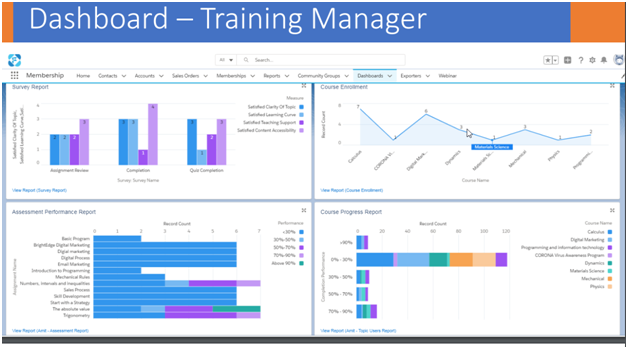 How does LMS – Salesforce integration empower your association?
While setting up your association's LMS – Salesforce integration goals you need to take care of a lot of things. An LMS comes with learning data like courses, learning assessment or exams, credits earned from courses, performance evaluation, analytics on learning course usage (courses access, frequency of visits, etc.). And, Salesforce has accounts, contacts, employees or member orgs, partners, deals based on roles, alerts, and notifications.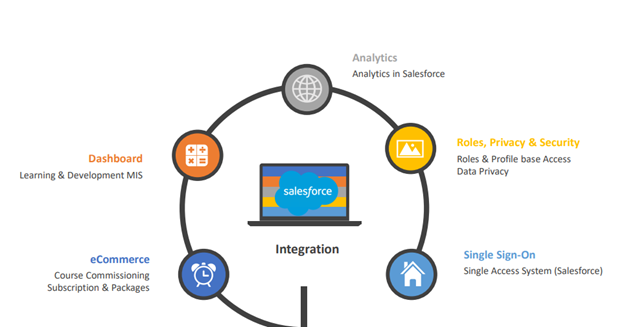 Both these platforms when integrated bring precious information that benefits associations and other organizations. Let's walk you through them:
Training coordinators can have smart reports and dashboards, role-based analytics reports, subscription-related transactions, and single sign-on (SSO) right within their Salesforce platform. Using SSO they can access the LMS from Salesforce without logging into the LMS and vice-a-versa. This eventually enables the learners to have a smooth learning experience and improves accessibility.
Course coordinators can also compare course performance, the number of learners who are continuing a course, yet to start, or completed; credits earned; surveys to determine satisfaction scores using Salesforce's e-commerce engine powered dashboards with transparent survey reports to measure the revenue generated.
Associations can subscribe to automated reports on Salesforce and receive them periodically by email both from the LMS and Salesforce.
An AI-fuelled engine allows the LMS to suggest courses and learning paths according to job profiles, interests, courses completed, and years of experience for the members and employees of an association.
Salesforce – LMS integration supports third-party content providers as well as popular content management standards, such as SCORM, xAPI (Tin Can), etc.
Associations can have community and member portals for training with LMS.
Notifications (customized during implementation) to training coordinators can be when members or employees complete their courses, learning paths, etc. This helps the association award certifications, course credits, badges on different stages of the program to motivate the trainees in a gamified fun-filled platform.
Associations can certainly generate non-dues revenue using LMS-Salesforce integration at their best. Associations can sell seminars and courses to people interested in skill development and striving to meet the ongoing requirements, get sponsorships (for webinars, exhibitions), sell job boards and advertisement spaces with related job posts, accreditation and certification programs, branded mobile apps, lease white-labeled LMS, etc.
Now that you have an overall understanding of
Salesforce and LMS integration benefits
for your association, choosing the right
Association LMS
won't be a hassle anymore. You can pick MapleLMS that offers you the above-mentioned advantages without burning a hole in your pocket. With an efficient team of professionals, they can tailor desired features for your association's  online learning requirements.
Summary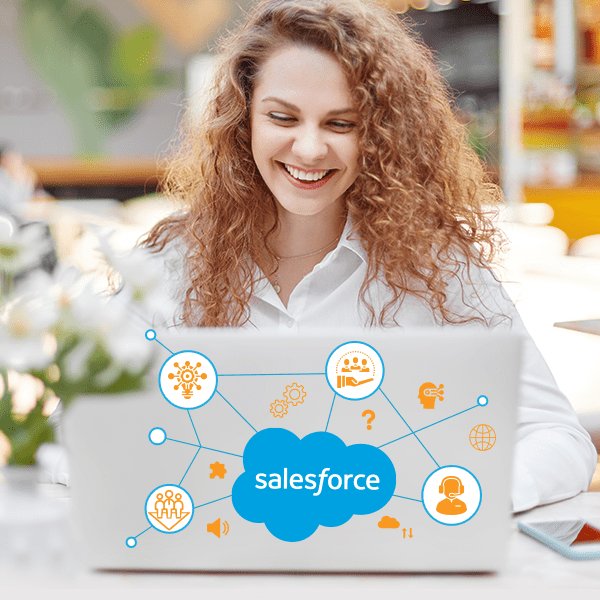 Article Name
Salesforce LMS Integration: Four Robust Methods to Improve Your Customer Training
Description
Salesforce compatible LMS for learning and development success. Read here Learning Management Systems Integrated with Salesforce how to improve your customer training experience.
Author
Publisher Name
Publisher Logo