LMS and Salesforce integration for Matchless Training and Impactful User Experience
Salesforce topped the list of best CRMs and we have all the reasons to leverage the power of Salesforce with MapleLMS. MapleLMS Salesforce LMS is embedded with all the amazing features of an LMS plus the benefits of Salesforce. Your users get the best training experience from our SaaS LMS right within Salesforce. MapleLMS aligns with Salesforce Sales Cloud, Service Cloud, Experience Cloud, and Marketing Cloud to deliver seamless user experience. What else can you ask for from the best cloud LMS? Let's explore what an LMS and Salesforce Integration brings to your table!
Here are a couple of quick takeaways from Salesforce LMS integration:
Salesforce and MapleLMS integration streamlines the learner (employees and members) onboarding process. As soon as their Salesforce IDs get created the relevant data is used to enable them access to the LMS training content. Users get auto-enrolled into respective role-based training programs and get suggestions for the learning paths.
Customized Learning Experience
Every month new courses on business skills, HR compliance, leadership and management, software, sales and service, information technology, workplace safety covering Occupational Safety and Health Administration (OSHA), and other topics are added to BizLibrary. The courses are constantly updated, plus you can customize the course content to suit your specific needs. It helps your employees and members stay abreast with the latest compliance training.
Get Analytics in Real-time
Analytics can make or break a business. Get meaningful insights into your learning data synchronized with your learners' Salesforce profiles for a wholesome view. Show the LMS data to your stakeholders on the Salesforce dashboard for updated LMS analytics.
Users accessing Salesforce can effortlessly access the LMS training content without having to log in. The employee, member, or partner information gets automatically synchronized with the LMS to offer two-way synchronized data. No more training and Salesforce systems lying in silos. Centralized training data at your fingertips!
Salesforce LMS Integration for LMS Audit Compliance
Salesforce LMS integration enables you to stay compliant with audit requirements for your LMS system. Integration brings all the relevant employee information, customer, and partner data from Salesforce into the LMS which is important from an audit prospect.
Product and service training are essential for your employees, members, customers, and partners. Salesforce LMS integration streamlines training and enables you to keep track of the users' learning progress, earning required certifications, meeting compliance, and more so that you can plan future training programs.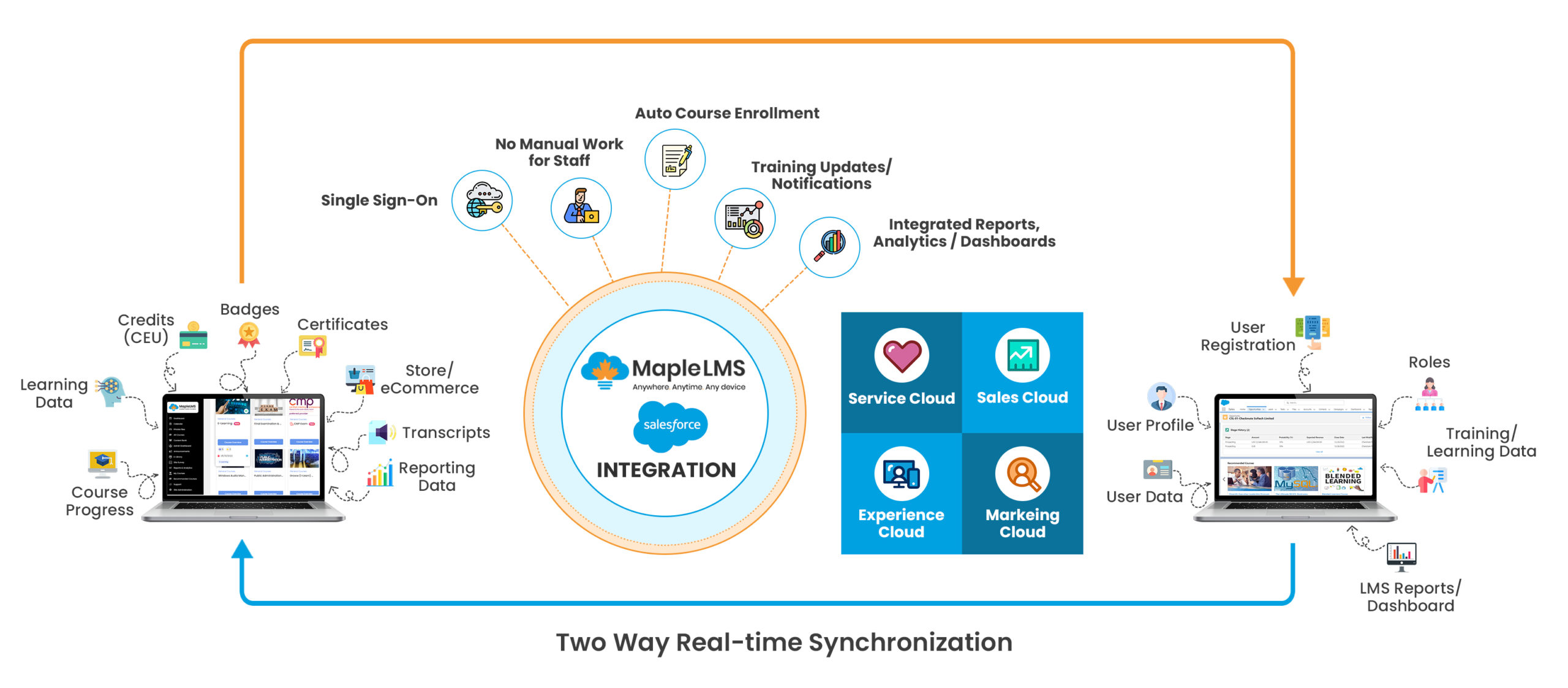 eCommerce-enabled Solutions
Earn some additional revenue using the built-in eCommerce platform. LMS Salesforce integration ensures all the course and merchandise sales, transactions, and inventory data get two-way synchronized for a single source of truth. Associations can earn non-dues revenue by selling courses and merchandise using the eCommerce storefront.
Continuing Education Units (CEUs)
Learners can earn CEUs and update the same on their Salesforce LMS profile. Any certificates, badges, or points earned reflect on the learners' profile. The data and analytics can be used to customize the learning experience. 
Social learning exposes learners (employees or members) to more avenues so that they can use social media, communities, Salesforce Chatter, Slack, community groups, polls, surveys, chats, and emails to exchange knowledge, and expertise, and collaborate on projects. It encourages peer-to-peer and learner-to-instructor communication.
Automatic User Creation on Course Enrollment
Eliminate the chances of data duplication as users (usually, members)  are auto-created when they enroll in a course. The information is synchronized between the LMS and Salesforce systems.
Efficient Case Management
When sales reps get the required training at their convenience they stay updated with the latest development in the sales process. With stage-wise training programs in front of the LMS, embedded within Salesforce they can now close deals faster and resolve customer issues faster. Support teams use the LMS training through Knowledge articles to self-support and resolve queries.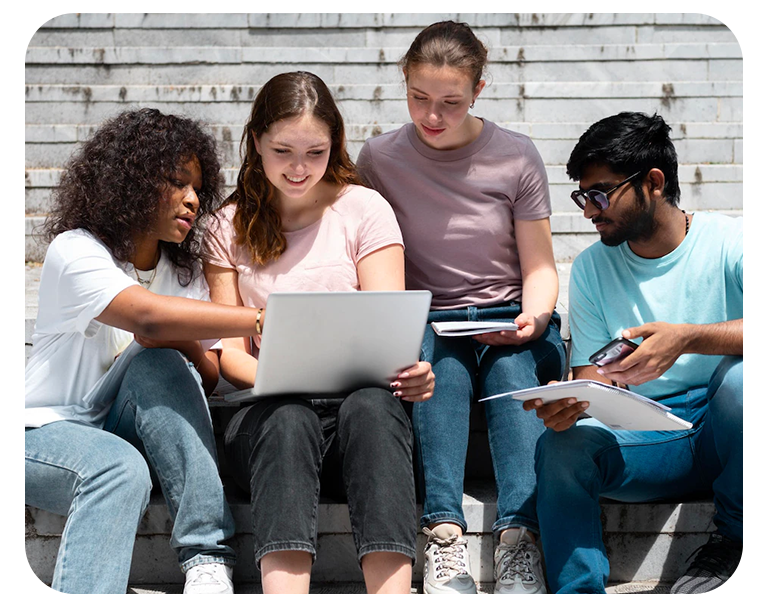 Salesforce and MapleLMS Integration Features for You!
AI-suggested Training Recommendations
Salesforce and LMS integration uses AI capabilities to suggest training courses to users depending on their roles, learning history, and interests. Training tied to products on Salesforce suggests relevant training courses that users can use for self-support to resolve cases.
Visualize LMS Reports on Salesforce Dashboard
Managing LMS reports and analytics on two distinct systems is a challenge. Salesforce integration pulls all the reports and allows you to visualize the analytics right on the Salesforce dashboard. Stakeholders don't need to log in to the LMS at all!
Single Source of Truth
MapleLMS Salesforce integration synchronizes all the learning data between both systems. Personal information like name and address to learning credits, progress, certifications, badges, and enrolled courses are mapped between them for a centralized and transparent view.
Off-the-shelf Course Library
MapleLMS comes with 10K plus off-the-shelf courses that your learners can access right within Salesforce. These courses are suitable for HR training, sales training, support training, IT and software training, and compliance training to strengthen your workforce and member circle.
Microsites for Personalized Learning Experience
Enable personalized learning for your employees and members using microsites accessible through Salesforce or present LMS courses on Salesforce Experience Cloud pages. These microsites can be branded with the theme, logo, and content depending on the community, geography, chapter, rosters, or department that users belong to offer a sense of belonging.
LMS Reporting on Salesforce Dashboard
Salesforce integration brings LMS reports to the Salesforce dashboard. Stakeholders can visualize consolidated reports on the Salesforce dashboard without needing to log in to the LMS. A single login offer transparency and clarity in user learning and progression data making Salesforce the single source of truth.
The Right Integration for All Your Training Requirements
Salesforce and MapleLMS Integration Demo
This cloud-based SaaS platform also comes with out-of-the-box Salesforce integration. As a result, Single Sign-On (SSO) feature is available for secure and easy access to the learning content. Users can access the LMS content using either the MapleLMS or Salesforce credentials without switching the current system they are in.
Frequently Asked Questions
Yes. Out-of-the-box integration between MapleLMS and Salesforce enables two-way data synchronization between the two platforms. This ensures that Salesforce becomes the single source of truth for all the learning activities within the LMS. You can auto-generate LMS reports on Salesforce and visualize the insights on Salesforce dashboards. Employees, members, LMS admins, and the training instructors all are on the same page when it comes to updated learning information.

Salesforce LMS integrations enables you to identify performance and skill gaps of employees. Identifying these gaps can help you address them with appropriate training programs by tying training courses to employees' Salesforce profiles right from onboarding. Right training at the right time opens up the opportunity for you to enhance the productivity of the team and generate more revenue.

Of course. MapleLMS Salesforce integration synchronizes data in two ways. This enables you to view individual reports of the learners in LMS. Visualizing individual reports helps you identify where learners need to improve and what are their strengths. These reports can further be auto-scheduled for managers and leadership roles in your organization. Decisionmakers can view the reports directly on Salesforce without logging into the LMS.
MapleLMS Salesforce LMS comes with plenty of features that facilitate personalized learning. You can customize the platform according to your requirements and work along with Salesforce Experience Cloud. You can set customized learning paths for learners based on their roles. There is the option to create microsites with different branding so that each microsite user feels cared for and receives a personalized learning platform according to their requirements.
MapleLMS Salesforce LMS integration brings contextual learning to the forefront. Course suggestions get automatically updated for learners as they move up their careers within the organization. Training content, certifications, and other credentials tied to their profiles get updated as the learners keep growing and learning within the organization using the Salesforce-integrated LMS.

MapleLMS makes BizLibrary access with LMS login a seamless process. Apart from course access, MapleLMS comes with course analytics, learning reports and analytics, and interoperability across devices to ensure a seamless learning experience. Organizations can get BizLibrary integration with MapleLMS to have a fully-fledged Salesforce LMS that offers a smooth learning experience for their employees and members.