A survey by a reputed CRM in 2022 stated that 72% of organizations claimed their teams use customer data to provide better customer service. In this case, Salesforce is the leading Customer Relationship Management (CRM) system organizations use to simplify their customer data management.
Employees can also monitor key performance indicators (KPIs) like best-selling products, average order quantities, total sales, and retention rates with the help of LMS integration with Salesforce, which provides them with centralized access to vital customer information.
In this article, you will learn the five main trainings supported by LMS Salesforce integration as follows:
Customer Training
Employee Training
Remote Workforce
Partner Training
Supplier Training
Gig Worker Training
So, let's head on!
Pro Tip: "MapleLMS integrates seamlessly with Salesforce, Read more!"
1. Customer Training
Through the Experience Cloud, integrating an LMS with Salesforce provides a potent solution for effective customer training. With the help of this integration, you can give your customers a smooth and simple learning experience, greatly increasing their engagement and capacity for self-support.
Customers can access training materials, tutorials, and self-support documents through the Experience Cloud, which eliminates the need for them to submit support tickets. Customers will save time as a result, and it will also give them more confidence and independence when using your products or services.
Additionally, the integration lets you track and evaluate customer learning metrics, which provides insightful information about their development and areas that might require more focus. This assists in the growth of your organization while providing value to the customers as well.
2. Employee Training
When an LMS and Salesforce are integrated, new hires are automatically enrolled in relevant LMS courses when their Salesforce IDs are generated, streamlining employee training through Service Cloud. Employees can access customized learning materials at every level with the help of training's smooth integration with Salesforce processes. This promotes self-paced skill development and ensures that training is in line with the employees' changing needs and job responsibilities. This also includes various types of training depending on the staff such as:
Support Teams' Training
Support teams utilizing Service Cloud benefit from streamlined training procedures when an LMS is integrated with Salesforce. In order to ensure that service agents have access to the most recent product knowledge and troubleshooting techniques, training modules are directly accessible within Salesforce.
Support managers can evaluate and enhance agent performance with the help of this integration, which automates the tracking and reporting of support training completion. It also promotes a smooth customer support experience because skilled agents are able to handle problems faster, which raises customer satisfaction and improves service effectiveness.
Sales Training
Sales representatives need extensive sales training in product information, and sales techniques as they have to meet their regular revenue and lead generation targets. Additionally, sales teams frequently work with leads on Salesforce directly because they are dispersed geographically using the Sales cloud. 
As a result, many sales managers and sales trainers require a learning management system (LMS) that is integrated with Salesforce. This is because it allows colleagues to use the same login credentials for both sales and training and allows sales employees to move between the two tasks without any interruption.
3. Remote Workforce Training
Integration of an LMS with Salesforce simplifies training for remote workers using Service Cloud. Information about remote employees, their performance data, and training records are easily accessible due to this integration, which centralizes data. Automating the process of assigning training assignments according to roles and advancement, provides individualized, timely learning. 
Administrators can monitor training efficacy and make data-driven decisions with the help of real-time reporting and analytics. Through improved skill development and increased overall performance across the organization, this synergy fosters a more productive and efficient remote workforce.
4. Partner Training
Integrating an LMS with Salesforce expedites partner training and provides a seamless digital onboarding and learning experience for all partner companies. Through this, partners can access customized training modules via any Salesforce Cloud, making sure they are prepared to deliver the best possible end-user experiences. By encouraging efficiency and teamwork, this integration strengthens business ties and gives partners the tools they need to succeed.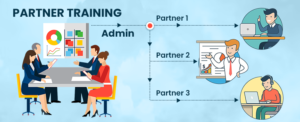 The LMS when integrated with Salesforce utilizes microsites to create a structure with the main administrative body on the top and other partners below that separately. Here, each partner/company can have their separate course content, completely private from the other partners/companies on any Salesforce cloud. This helps provide every partner/company with a unique and separate learning platform yet connected with the administrator at the same time.
5. Supplier Training
The LMS (Learning Management System) integration with Salesforce facilitates supplier training. Workflows for supplier training can be effectively managed, tracked, and automated by companies. Businesses can deliver customized training materials, track supplier progress, and ensure compliance all from within Salesforce with real-time data synchronization. In the end, this integration improves performance and collaboration throughout the supplier network by increasing visibility, speeding up onboarding, and encouraging a smooth, data-driven approach to supplier training.
6. Gig Worker Training
The training for gig workers is made easier with an LMS integration with Salesforce, which enables easy access to training resources via any Salesforce Cloud. This makes it easy for gig workers to follow the rules and regulations regarding company compliance. Employees can easily access training from any location, which facilitates effective onboarding and skill development and, in turn, improves workforce performance and compliance throughout the company.
Conclusion
Currently, more than a lakh of companies worldwide depend on Salesforce to run their operations. If you want to integrate Salesforce with your training procedure, think about which use case – customer training, employee training, partner, supplier, or gig worker training – best suits your objectives. You need to keep in mind that your LMS provider is in sync with your requirements regarding Salesforce integration.
MapleLMS integration with Salesforce perfectly aligns with all kinds of Salesforce clouds namely, Sales Cloud, Service Cloud, Experience Cloud, and Marketing Cloud. Our LMS integration with Salesforce provides quick user onboarding, customized learning experience, real-time analytics, Single sign-on (SSO), and many more benefits. You can pinpoint employees' performance and skill gaps with the help of MapleLMS and Salesforce integration. You can identify these gaps and fill them with the appropriate training programs. See for yourself by taking a free demo now!