Unlock the Advantages of Collaborative Learning
Are your employees failing to retain the knowledge from training? Why it is so? Are they collaborating during training? No? Then, they are missing an important part of training. Yes, discussions, knowledge sharing, and feedback to improve and grow.
Learning together makes learning experiences more exciting. Collaborative learning experiences allow learners to engage with each other, and fill the knowledge gaps. It is important to grow in the world of work.
Join Us in Our Exclusive Webinar: Unlock the Advantages of Collaborative Learning. This webinar has everything to feed your knowledge appetite with the right information to keep employees engaged in knowledge sharing and knowledge retention.
Matt Peterson (Relationship Manager of MapleLMS) awaits your presence in the webinar. He will guide you through effective collaborative learning strategies to improve training outcomes. Matt will discuss how all of these aspects improve collaboration throughout the learning journey:
Avin Tiwari (Customer Success Manager of MapleLMS) will guide you about the benefits of introducing collaborative learning experiences. He will discuss how collaborative learning fosters all these qualities among employees.
Join us to know more about metrics of measuring the effectiveness of SalesforceLMS!
We invite people from corporate organizations, associations, and non-profits with these roles:
MapleLMS is a Certified Association Executive (CAE) approved provider. We are a learning management system (LMS) company, and offer online learning and assessment solutions to associations and corporates. We share our expertise through live webinars. Earn CAE credits by attending our live webinars.
Earn 1 CAE Credit for Attending this Webinar
MapleLMS has partnered with ASAE and this entitles all the attendees of this webinar to earn 1 CAE. This webinar meets the requirements for fulfilling the professional development requirements to earn or maintain the Certified Association Executive credential. This session falls under the domain "Business Development – Meetings and Events" and qualifies for 1 CAE Credit toward your CAE application or renewal professional development requirements.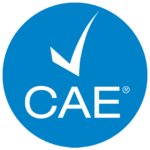 How to claim your CAE credit: Upon completion of the live webinar, you will receive a Certificate of Completion. We will maintain records of your participation in accordance with CAE policies. Click here to read more about the CAE credential or Approved Provider program. The CAE credit can be claimed on the MapleLMS platform.

Avin
Customer Training Manager
MapleLMS
Avin is a young geek, who keeps exploring ways to help L&D professionals in fostering a culture of continuous learning in their organization. He believes that the combination of technology and education can transform learning experiences, making them highly accessible, innovative, and engaging. Avin loves setting up meetings with Corporate Leaders, L&D professionals, and HR personnel to understand their exact training needs, and help them run the organization smoothly, with seamless work processes, and a motivated workforce.
Have we told, that Avin is a Wandering Monk? Yes, a modern wandering monk, who is fond of going on new journeys, seeking new places, and enlightening experiences. He believes that every person holds magic within themselves. They just need to dwell inside them. These journeys help him to experience the magic.

Matt Peterson
Relationship Director
CMP, LES
MapleLMS
Matt believes in building strong and trustable relationships that last longer than life, or just never end. If there would be another name for Matt, then it would be Patience. Matt patiently looks for ways to help Associations in driving member engagement, managing memberships, and delivering enhanced learning experiences. He has gained enormous knowledge over the span of more than four decades. His enriched knowledge helps him to better understand the exact requirements of associations to better assist them. Numerous associations are flourishing on non-dues revenues, mitigating the dependency on membership dues, with Matt's support and guidance.
Have we told, that Matt loves going on adventure trips? He loves sailing the boat on the river, gazing silently at the sunsets, climbing the huge mountains, camping in the dark, and lighting a bonfire. He enjoys grilling stews on the barbecue. Matt is a great storyteller. One can listen to him for hours. His experiences make all of us bewildered.