Help learners get skilled up and grow with the best gamified online learning platform. Personalize certificates and manage multiple credit types at once.
Challenge, Engage, and Reward!
Forging a healthy competitive atmosphere pushes learners to continue learning and earning rewards on the go. Interactive learning content using AR, VR, and simulation with gamification makes learning fun, exciting, and satisfying for learners.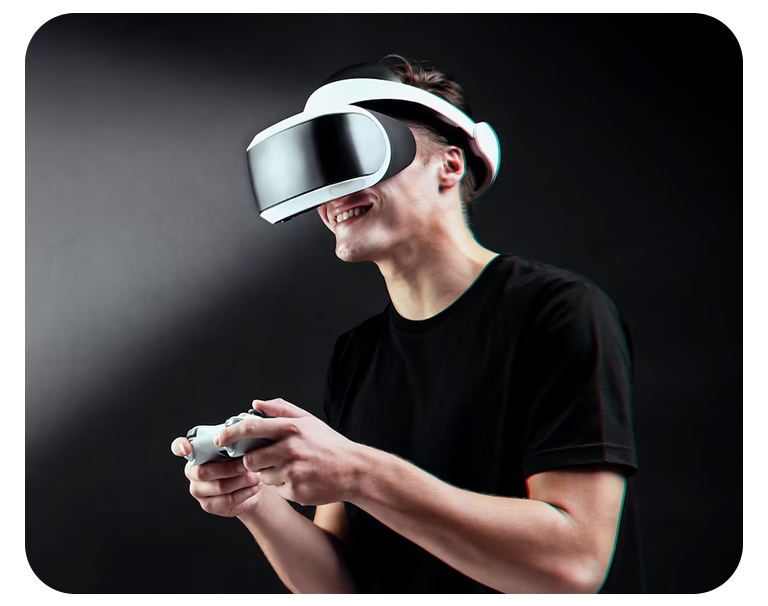 Increased Motivation with Goals and Objectives
Help learners feel a sense of accomplishment and progress upon completion of the learning goals, and stay motivated. Learning challenges, goals, and objectives are broken into small chunks of achievable tasks.
Rewards and Feedback
Keep your learners stay motivated to continue learning and help them gain social recognition through rewards and feedback. Feedback in the form of cues helps them improve learning.
Points, Badges, and Leaderboards
Learners earn rewards when they achieve learning objectives and milestones to demonstrate mastery over a topic. Leaderboards are for comparing learners ranking with their peers in the same activity.
Social Interaction
Gamification fosters a sense of community and enables peer-to-peer interaction. Learners team up on projects to work towards a common goal.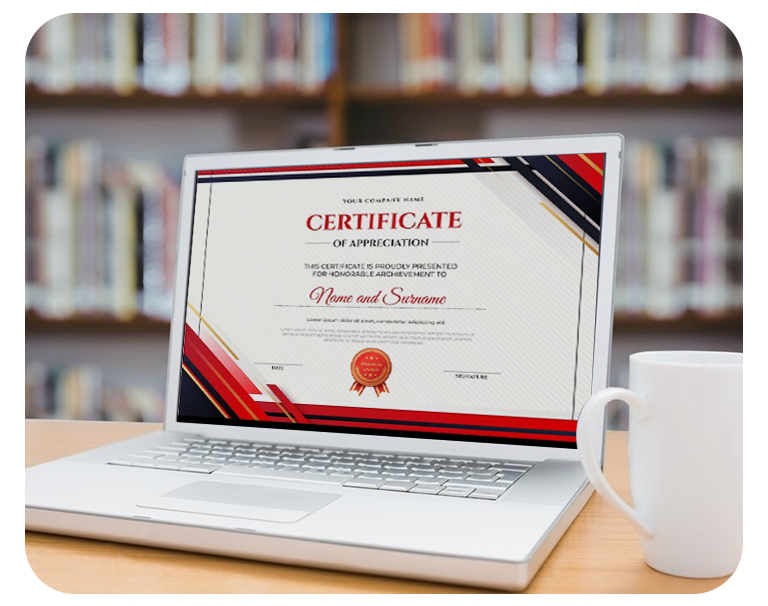 Certificate Auto-generation and Tracking
MapleLMS facilitates certificate auto-generation and learner progress tracking. As soon as a learner completes the mandatory training courses and assessments, the LMS auto-generates certificates.
Certificate Auto-generation
Enable Certificate Auto-generation when learners complete training courses and assessments required to earn the certificate.
Auto-reflection on Profile
As soon as the certificate is auto-generated upon successful course or assessment completion, it reflects on the learners' profile. Learners can share it on social media or download the digital certificate.
Send Notification
An email notification is sent to the learner with the digital auto-generated certificate and a congratulatory message.
Certificate Verification
Auto-generated certificates are verified by the LMS system and carry the correct information of the learner. The certificate IDs are unique to set them apart from other certificates.
Personalized Certificates
Deliver Branded Credentials!
Personalize certificates as per your brand's theme and guidelines. Learners get a sense of belonging with custom-designed certificates that they can share with potential employers, universities (if planning for higher education), professional networks, and personal branding.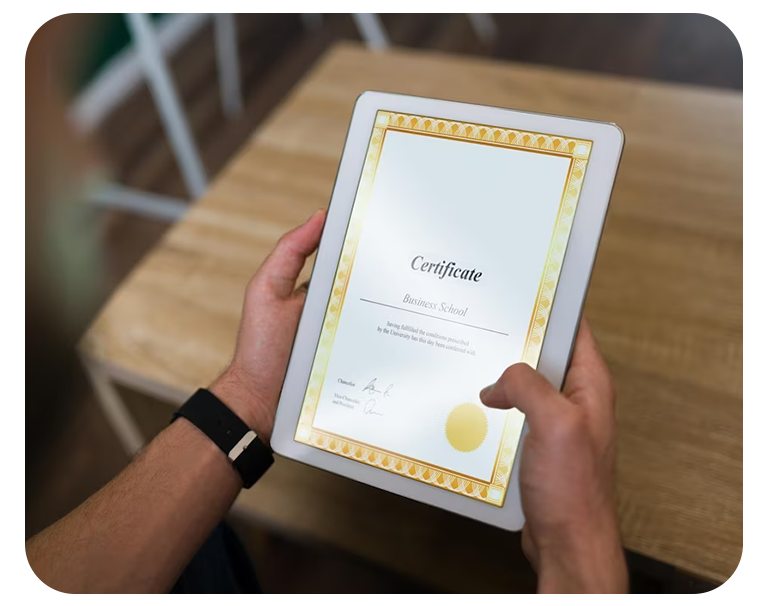 Collect Data
Incorporate required information for customizing the certificate, such as text, color scheme, and branding (logo and fonts), plus the learners' data such as name, skill sets, accomplishments, and training.
Design the Certificate
Design the certificate with the information gathered and consider the size, dimension, publishing medium (print or digital), and file format. Make it visually appealing yet ensure brand identity is maintained.
Customize the Certificate
The learners' information is auto-fed to the LMS and you can tweak the certificate settings to accommodate the relevant data, such as learners' names, date of completion, certificate IDs, and achievements.
Deliver the Certificate
The digital certificate is delivered online by email that learners can download. It automatically reflects on their profile and they can view and share on social.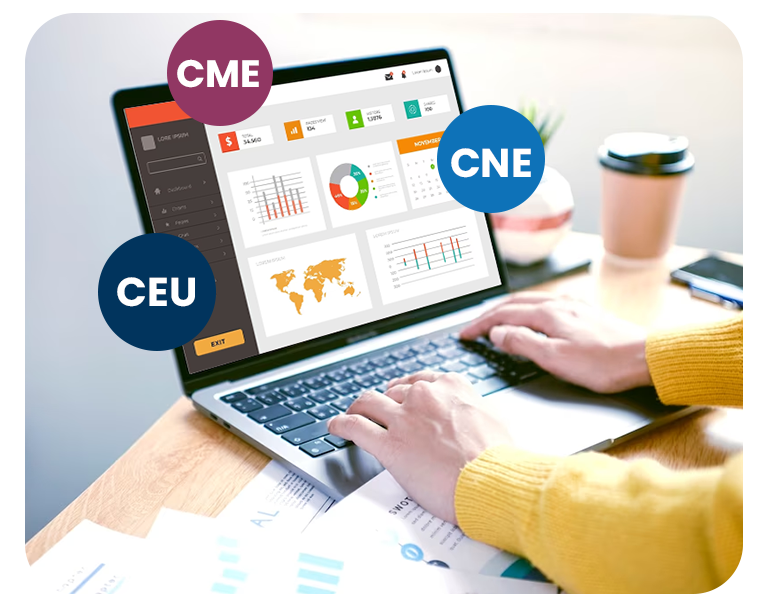 Flexible Learning for Diverse Professionals!
MapleLMS supports multiple credit types including Continuing Education Units (CEU), Continuing Medical Education (CME), Continuing Nursing Education (CNE), and ACCME PARS for seamless professional and healthcare training. Professionals get to learn and enhance their skills for career growth.
Continuing Education Units (CEUs)
Help professionals across industries maintain their skills and knowledge in their niche by earning CEUs, when they complete a number of learning hours or activities awards CEUs in IT, business, and engineering.
CME and CNE
MapleLMS supports ACCME PARS for healthcare organizations. Deliver CME and CNE using the LMS to help your medical professionals skill up, stay relevant with the latest medical innovations, and maintain their licenses.
Report and Track Credentials
Set multiple continuing education credit (CEU) types for every activity and course, so that they can be tracked and reported for each learner. The LMS auto-assigns these credits to the learners.
Centralized Credentials on the Dashboard
Enable professionals to view the different types of credits they have earned for a specific course or activity, right on the dashboard (learner profile). This information can reflect on their certificates and transcripts as well.