Explore the world of learning content types and formats supported for a wide range of learners. Interactive content that is easy to manage and inclusive to learners with special needs.
Create Shareable Awesome Courses!
Share and manage LMS content to streamline the delivery of learning resources and enhance the learning experience. Design, create, upload, and manage (store, export, and import) content (courses, tests, and quizzes), share audiovisual courses on forums and communities, and collaborate using mobile devices, for better content management.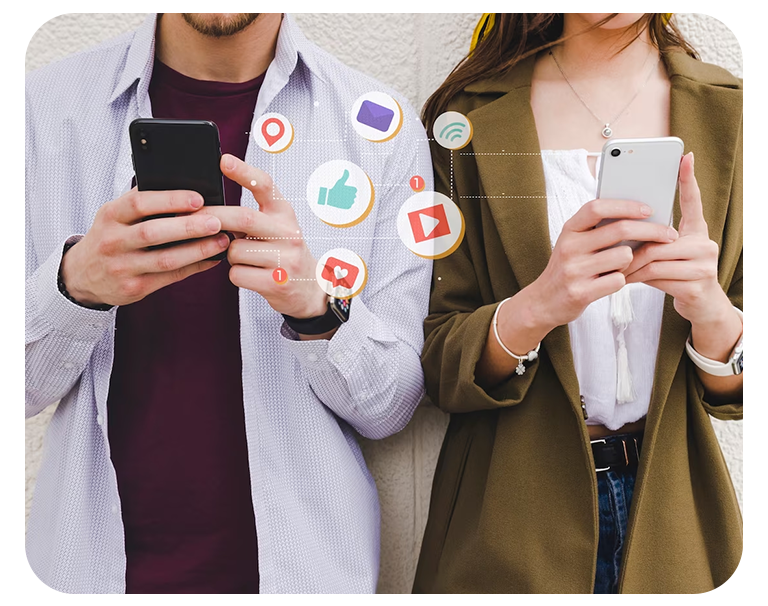 Upload Content
Develop the training content and upload it to the LMS. This includes documents, presentations, videos, audio files, images, PDFs, and other media types. You can also create SCORM and xAPI-compliant content using the LMS.
Organize Content
Organize the uploaded content to ensure that it can easily be found by learners. Use the LMS tools to categorize content based on topics, courses, modules, or any other criteria that help learners to locate and access the LMS training content quickly.
Sharing Content
Instructors can share the content with learners depending on their LMS access levels. They can set permissions to restrict access to certain groups or individuals. SCORM content can be shareable between different platforms.
Tracking Content Usage
SCORM courses are trackable to measure the learning progress within the LMS. You can track learners' interactions with the content (time spent on each resource, quiz scores, and other user data). This helps instructors and administrators evaluate the effectiveness of the content and plan future improvements.
Updating Content
Let your instructors update content easily as per the changes in curriculum or based on the feedback received from learners. The updated content can be replaced, and the previous version is automatically archived.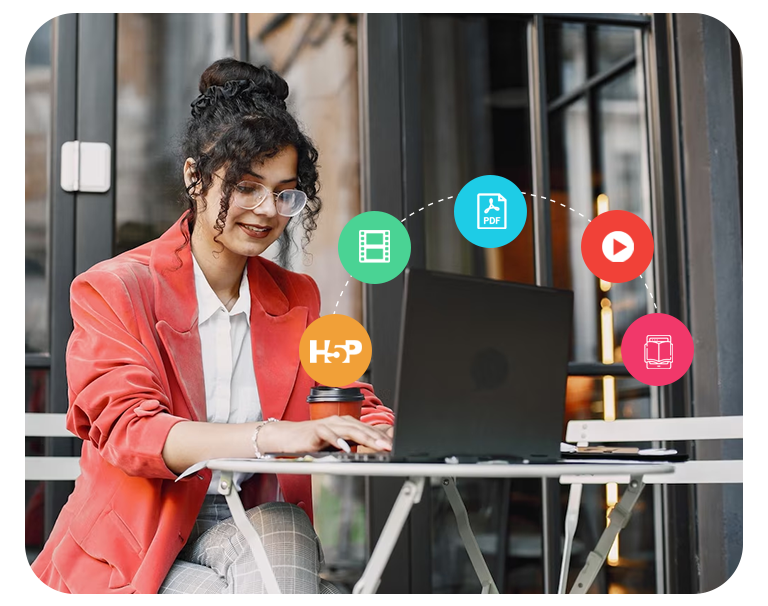 Supported Content Types - H5P, Multimedia, PDF, Video, eBook
Create Content as You Like!
Offer your instructors and instructional designers the flexibility to create content in a wide range of supported content types. They can use the LMS to create courses in H5P, Multimedia, PDF, video, audio, and eBook formats, and upload them to help enhance the learning experience.
H5P Content
Use the open-source H5P technology to create and share interactive learning content. MapleLMS supports H5P to create a wide range of learning content including quizzes, gamified courses, simulations, polls, and more. Embed the H5P courses directly into LMS courses or share them as standalone activities.
Multimedia Content
Create multimedia content such as images, audio files, and animations for a rich learning experience. Instructional designers and instructors can upload multimedia content to LMS courses, which can be used to supplement text-based learning materials.
PDF Content
Instructors can upload PDF files such as eBooks, reports, and research papers to LMS courses. Learners can access these PDFs on the LMS or download them as required.
Video Content
Upload video content including recorded lectures, tutorials, and demonstrations to the LMS courses for a more interactive learning experience. They can also link to external video hosting platforms if need there be.
Audio Content
Create audio content for the LMS courses in the form of recorded lectures or presentations, podcasts, interviews, audiobooks, language lessons, virtual classroom discussions, audio quizzes, and assessments, and add music and audio.
eBook Content
Instructional designers can create eBook content for textbooks, manuals, and other reading materials and upload them to the LMS. Learners can access these eBooks on any device or download them to read later.
Integrated Course Library
Spoil your Learners with Choices!
Let your learners learn from our wide range of off-the-shelf courses so that your team can focus on other crucial tasks. We have 10K off-the-shelf courses on different industry verticals in the LMS course library that frees up your team's precious time. Thanks to MapleLMS and BizLibrary integration!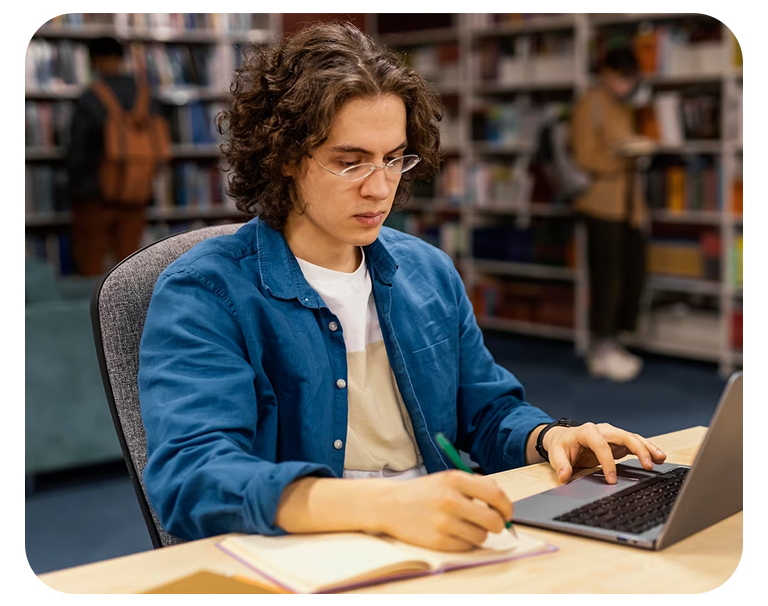 Accessing the Course Library
Assign courses to your learners from the course library within the LMS. The library can be easily accessed on the LMS dashboard. Role-based or individual course assignment is possible using the LMS.
Browsing the Course Library
Instructors can browse courses based on topic, subject, or level of difficulty. Each course will typically include a title, description, and preview of the course content.
Previewing the Course
Instructors can preview the course content to determine if it's a good fit for their learners. They can view the course outline, objectives, learning materials, and assessments.
Selecting a Course
Once instructors find a course that they want to use, they can select it from the course library and add it to their LMS training program.
Customizing the Course
Enable instructors to customize the pre-built courses they have selected by adding their own content or assessments. They can modify the course structure or add additional learning resources as required.
Sharing the Course
Share the customized courses with your learners with ease. You can set permissions to restrict access to certain groups or individuals.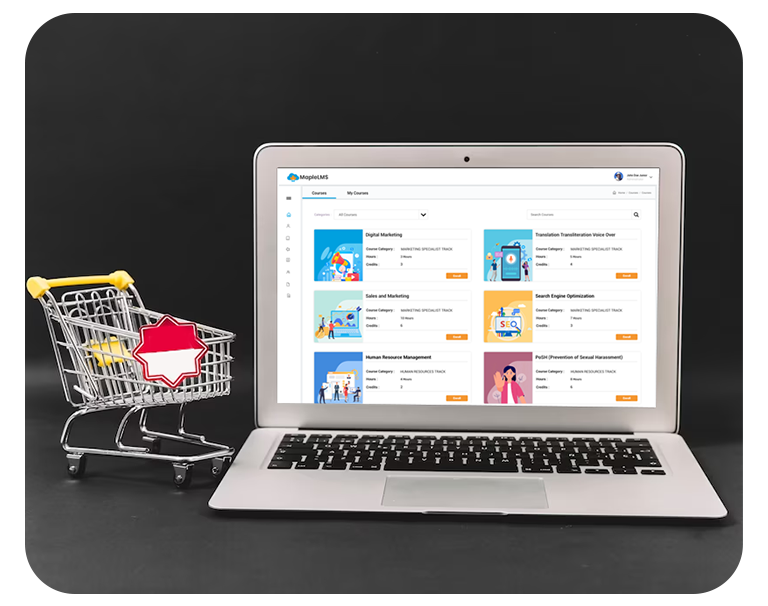 Want to sell courses, merchandise, or events? The built-in eCommerce module within the LMS easily facilitates these needs along with payment gateways and a catalog. Associations can generate non-dues revenue using the eCommerce module by selling courses, event registrations, and merchandise.
Set Up Online Storefront
Use the built-in LMS eCommerce module or get your own storefront integrated with the LMS. The online store then features the course catalog with pricing to enable learners to purchase or subscribe to courses.
Adding Courses to the Store
Administrators add courses or other learning materials or merchandise to the store for sale. Pre-built courses, eBooks, live session registrations, instructor-led training (ILT) or other resources can be listed here.
Setting Prices and Payment Options
Decide and set the prices for courses or materials within the online store, and configure the payment options for learners. This could include credit card payments, PayPal, or other supported payment gateways.
Manage Sales
Track sales and manage learner accounts accordingly, once the courses or materials are listed for sale in the online store. You can issue refunds, manage learner access to courses or materials, or generate sales reports using the LMS.
Integrating with Other Systems
Integrate the LMS eCommerce module with other systems, such as marketing automation tools (like Salesforce Marketing Cloud) or customer relationship management (CRM) software (Salesforce, Zoho, and Microsoft Dynamics). Streamline sales and marketing activities and manage learner data more efficiently using the LMS while your admins can take care of other crucial tasks.
Non-dues Revenue Generation
If you are an Association, then use the LMS to generate non-dues revenue by selling courses, event registrations, subscriptions, merchandise, and more. It ensures a seamless member experience as they can easily buy courses and learn on the go!
Secure Learning Environment for All!
Your learning data security is crucial for us. The LMS has SAML, OAuth, and SSO features in place to ensure the utmost security. User data privacy and safety are ensured by preventing unauthorized access to the LMS. There is a combination of authentication and authorization, encryption, firewall, network security, data backup and recovery, regular updates and patches, and compliance with regulations, in place to protect user data.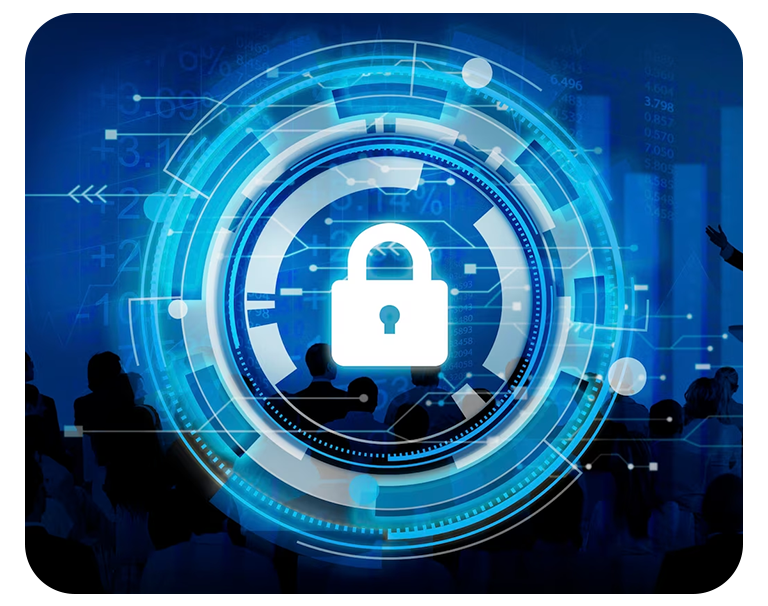 Authentication and Authorization
Authenticate ad authorize users using LMS Single Sign-On (SSO) for enhanced security. Users access the LMS system by providing a valid username and password. You need to restrict their access level according to their role and permissions.
Data Encryption
Your sensitive data (user credentials, payment information, and other personally identifiable information (PII)) is protected using data encryption techniques. The LMS platform typically uses Transport Layer Security (TLS) to encrypt data transmitted between the user's browser and the LMS server.
Firewall and Network Security
With firewalls and other network security measures, we prevent unauthorized access to the LMS. This includes blocking unauthorized IP addresses and scanning for potential threats.
Data Backup and Recovery
Your LMS data is protected with a data backup and recovery plan to prevent any data loss in the event of a system failure or other disaster. Backups are typically stored in secure, offsite locations to protect against data loss.
Regular Updates and Patches
We regularly update and patch the LMS platform to ensure that they are secure and protected against the latest security threats. We update the LMS software, operating system, and other software components at regular intervals to ensure security.
Compliance with Regulations
We take care of compliance with relevant data protection regulations, such as the General Data Protection Regulation (GDPR) or the Family Educational Rights and Privacy Act (FERPA) to ensure that user data is protected at every stage.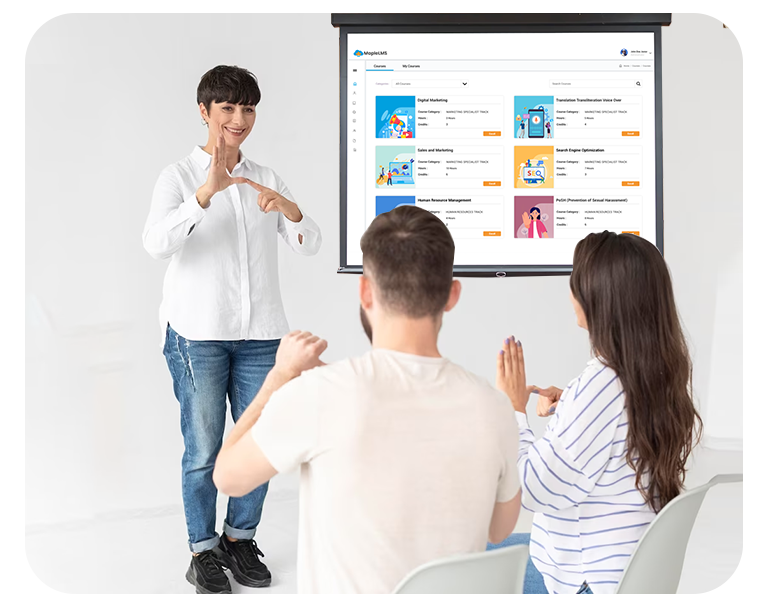 Make Learning Inclusive & Accessible!
Provide an inclusive and accessible learning platform to your learners with special needs. The LMS supports the visually impaired and learners with special abilities, with WCAG compliance, accessibility features and controls, and assistive technology support to learn better. The LMS involves assistive technologies, accessible design and navigation, accessible content creation and assessments, and resources for instructors for an inclusive learning experience.
Support for Assistive Technologies
The LMS supports assistive technologies, such as screen readers, magnification software, and alternative input devices. This ensure learners with visual, auditory, or motor impairments are able to access the LMS and participate in various learning activities.
Accessible Design and Navigation
The LMS is designed to meet accessibility standards, such as the Web Content Accessibility Guidelines (WCAG). Using clear, simple language, providing text descriptions for images, and ensuring that the system is navigable using keyboard shortcuts, come under WCAG.
Accessibility Testing
The LMS platform is regularly tested for accessibility compliance by user testing it with learners with disabilities or special needs, as well as using automated testing tools. This enhances the accessibility standards of the LMS.
Accessible Content Creation
The LMS platform has accessible content creation tools to create accessible content, such as alternative text for images, video and audio transcripts, text-to-speech and speech-to-text tools, and accessible documents. This makes the LMS course content accessible to all learners.
Accessible Assessments
Alternative formats, extra time, and other accommodations for learners with disabilities or special needs makes assessments accessible within the LMS.
Accessibility Support for Instructors
Resources and support for instructors to create and deliver accessible content and assessments help the instructors and instructional designers create inclusive course content. This includes training, documentation, and support from accessibility experts.