Personalize your LMS and course completion certificates with your own branding or sublicense white-labelled LMS to your affiliates and partners.
MapleLMS enables organizations to sublicense or resell the white-labeled LMS and branded mobile apps to their partners and affiliates. It helps them build their own brand identity and opens up more avenues for revenue generation, without developing an LMS.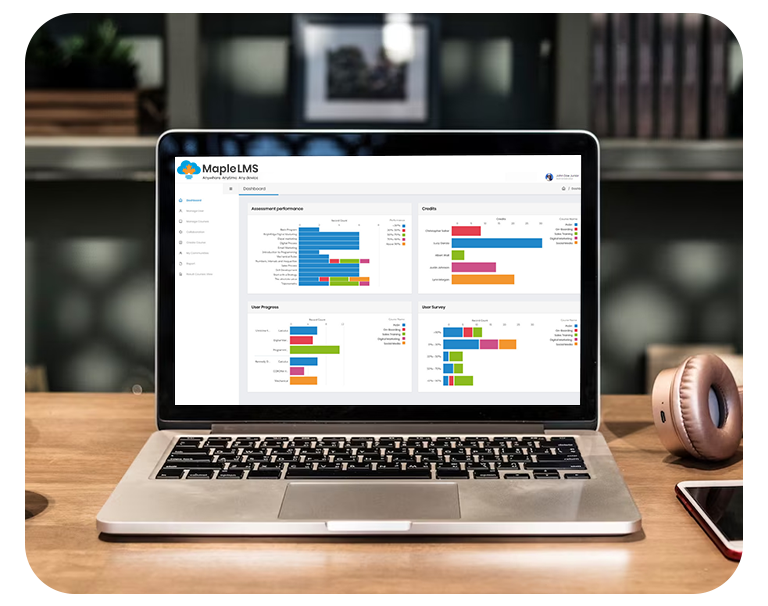 Customize the LMS
Customize the LMS platform to match your branding. This usually involves adding your company logo, choosing your colors, and customizing the user interface (UI) to fit your exact requirements.
Setting up User Accounts
Create user accounts for your customers, employees, or members, once the LMS customization is done. You can set up different roles and permissions for each user, depending on the organization's policies.
Manage Content
Create and manage your own content on the white-labeled LMS, or you can use the existing content from our huge course library with 10K+ courses. You can create courses, quizzes, polls, surveys, questionnaires, and other learning materials to help your users learn and grow.
Re-Sell or Sublicense the Platform
Resell or sublicense the white-labeled LMS platform under your own name and branding to your partners and affiliates. You can charge customers a fee for access to the platform, or offer it as a value-add to your existing products or services.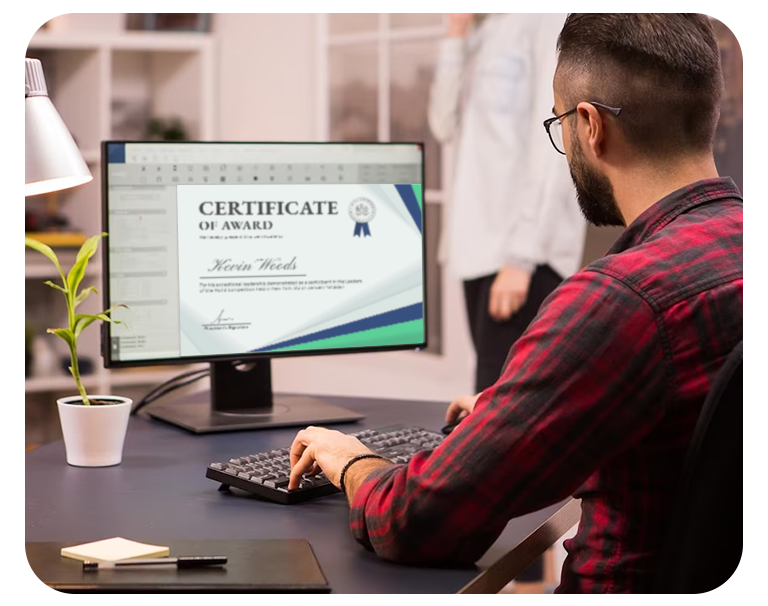 White-labeling Certificates
Make your Branded Certificate Credible!
Customize the design and branding of your certificate that is awarded to learners upon course, program, or assessment completion. Promote your brand and reinforce its identity while recognizing learners' achievements.
Choose a White-labeled LMS to Customize the Certificate Design
Customize the certificate design to match your branding by adding your company logo, choosing your colors, and selecting a font that fits your brand style. It builds personalized yet professionalized recognition for your brand and enhances brand value among learners.
Certificate Auto Generation
Automate the process to add the learner's name, course or program, date of completion, and name of the certificate from the LMS upon course or task completion.
Preview and Display
Preview the certificate before making it available to the learners, so that there are no last-moment glitches. A minor glitch would result in a negative learner experience.
Award the Certificate
Upon course or program completion, or passing an assessment test the certificate is awarded to the learners automatically. The LMS platform does it seamlessly. Learners can typically access the digital certificate on their profiles, download it, or share it on social platforms.
White-labeling Mobile Apps
Take your Branded Learning to Places!
White-label the LMS mobile app to deliver a fully-branded and customizable learning experience matching your branding and identity, or rebrand and resell the app under your own name. Your employees, customers, members, or external learners learn from anywhere, as the LMS app increases engagement and motivation, and improves the overall effectiveness of learning initiatives.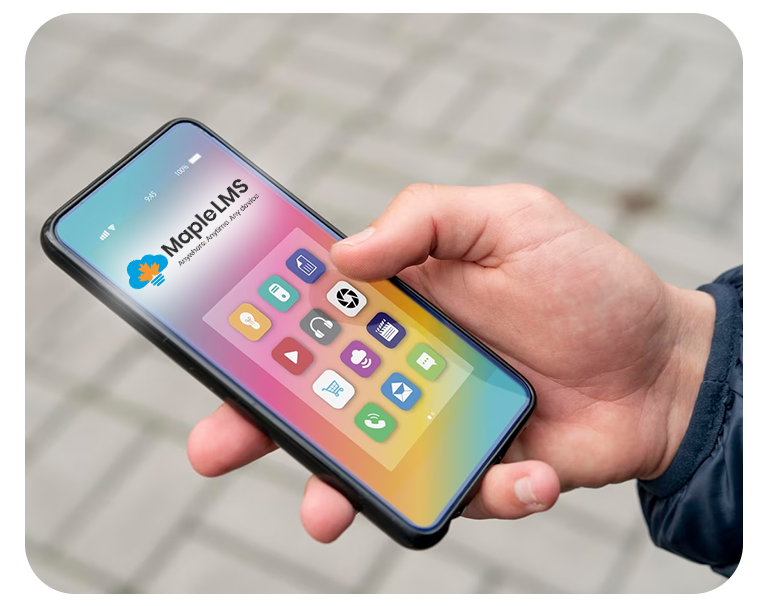 Customize the App Branding
Customize the LMS mobile app to match your branding. Add your company logo, choose your colors, and theme, and select a font that fits your brand style. Include features for course creation, learning, assignment submission, progress tracking, and assessment.
Mobile App Testing
Your branded mobile app is tested before it's available for your learners and staff to use, to ensure that it works as expected. This includes testing for bugs, user experience, and compatibility with different devices and operating systems.
LMS App Delivery
The mobile learning app is available on Apple App Store and Google Play Store. Your users can download the app and access it using their respective roles and credentials (learners and instructors). Manage user accounts and permissions with ease.
Manage Content and Users
Manage your own content and users with your white-label mobile LMS app. Create courses, quizzes, assignments, and other learning materials to help your users learn and grow.